Dominican spaghetti
Constanza Recipes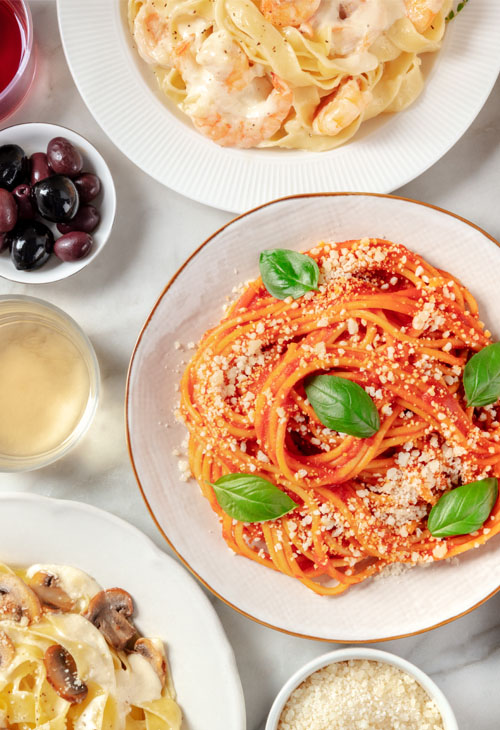 Dominican spaghetti
Constanza Recipes
6 people
45 min
Ingredients
1 lb spaghetti
2 teaspoons of salt
2 tablespoons olive oil
1 lb "salami"* of your choice diced (optional)
1 onion, diced
2 tsp. Constanza Garlic Paste
1 large green chili, diced
¼ cup seeded green olives
1 tablespoon capers (optional)
4 ripe tomatoes, chopped
1 pinch of Constanza Oregano
2 cups of tomato sauce
½ cup evaporated milk
¼ teaspoon pepper, or to taste
¼ cup grated Parmesan (optional)
Preparation
Bring enough water to boil to cover the pasta. Add a teaspoon of salt to the water. When the water starts to boil, place the spaghetti in the pot and boil until slightly softer than al dente. Remove from the water.
While the spaghetti is boiling, heat the oil over medium heat. Sauté the salami until golden brown.
Add the onion, Constanza garlic paste, chili peppers, olives, capers and fry until the onion turns transparent.
Add the tomatoes and Constanza oregano and cook over low heat until the tomatoes are soft. Add the tomato sauce and stir.
Add the spaghetti and milk to the sauce and mix well. If you don't want to use milk, add just the spaghetti at this point.
Cook over low heat for a minute. Season with pepper and salt to taste. Sprinkle with cheese and serve hot.
( * ) Salami is a large sausage made from meat and spices that has a strong taste and is usually eaten cold in slices.  Very popular in the traditional caribbean cuisine.