Shredded meat
Constanza Recipes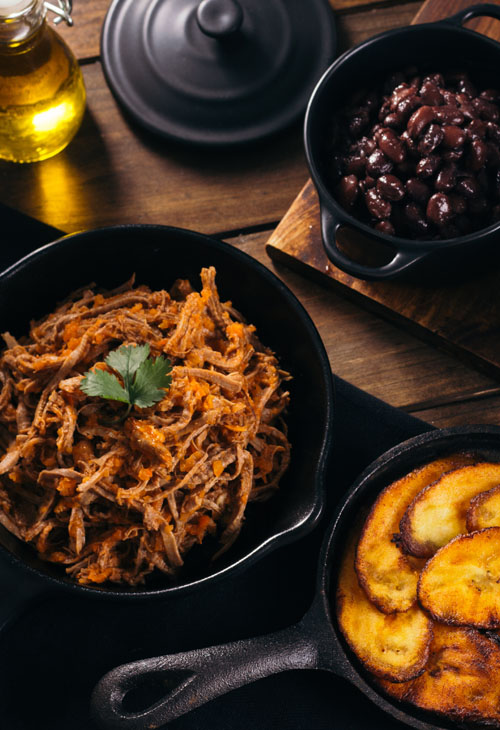 Shredded meat
Constanza Recipes
4 people
25 min
Ingredients
Ingredients for boiling the meat:
2 lbs. of beef, salt to taste
Pepper to taste
1 tbsp of Oregano Constanza
½ tbsp. Constanza Garlic Paste
1/2 white onion
2  leaves 1 sprig of celery
Ingredients to boil the meat stew:
3 Tbsp olive oil
1/2 cup of minced white onion
1 Cup red bell peppers, thinly julienned
1 tsp. Constanza Garlic Paste
1 Cup diced tomatoes 2 Tbsp tomato paste
1/2 cup of dry white wine
1/2 Cup of the broth from the meat cooking
1 Tbsp of cumin powder
Salt to taste pepper to taste
Preparation
In a pressure cooker, add the meat with the salt, pepper, Constanza oregano, Constanza garlic paste, onion, bay leaf and celery stick. Cover with water.
Cook for 20 minutes or until the meat is tender. Set aside half a cup of the broth. Let the meat cool and shred. Reserve it.
In a large frying pan, heat the oil. Sauté the onion with the peppers until the first one turns translucent.
Add the Constanza garlic paste, and when it begins to perfume add the tomatoes and tomato paste.
Add the wine and boil until the alcohol evaporates a little. Add the broth from the cooking of the meat, the cumin and season with salt and pepper. Add the shredded meat and cook over slightly low heat until the liquid in the meat sauce is reduced and tender (approximately 25 minutes).