Shrimp and Rice Pottage
Constanza Recipes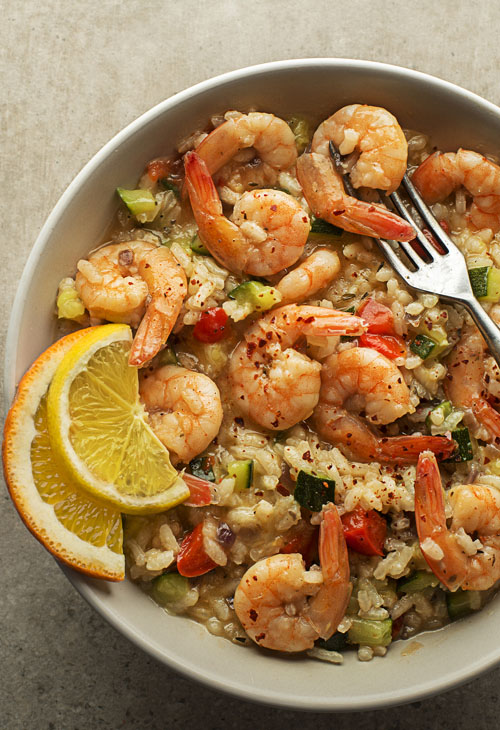 Shrimp and Rice Pottage
Constanza Recipes
6- 8 people
45 min
Ingredients
3 lts. boiling water (which you will keep simmering over low heat)
2 lb peeled raw shrimp
3 tbsp. of olive oil
1 large red onion, diced
1 cup of bell pepper cut into cubes
1 tsp. of Constanza Garlic Paste
1 tbsp. of finely chopped parsley, plus extra for garnish
2 cups of tomato sauce (or 5 tbsp tomato paste)
1 ½ tbsp. of salt
2 lemons
2 ½ cups of rice
½ cup of diced carrots
½ cup of green beans / canned petit pois
½ teaspoon of pepper
Hot sauce to taste (or sour orange)
Preparation
Pour the water into a pot and heat over medium-low heat until it reaches a low boil, lower the heat to just keep it hot. We will use this liquid to add it to the other pot later in the preparation.
Finely chop ⅓ of the shrimp. Store whole shrimp in the fridge for later use. In a saucepan, heat the oil over low heat. Add the onion, peppers, Constanza garlic paste and parsley. Cook and stir until the onion turns translucent.
Add the chopped shrimp, cook and stir for another minute. Add the tomato sauce, the juice of a lemon and mix well.
Pour ⅓ of the water (from the other pot) and 1 tablespoon of salt, increasing the heat to medium and bring to a boil.
Add the rice, the carrot and the beans. Stir the rice regularly, adding boiling water from the other pot to keep the rice covered while the liquid evaporates and is absorbed by the rice.
Once the rice is well cooked (the grains are soft and have doubled in size), add the remaining shrimp set aside earlier and cook until the shrimp turn pink, add pepper, salt and hot sauce to taste.
Serve with lemon wedges and a few slices of avocado or plantains.