Stewed goat
Constanza Recipes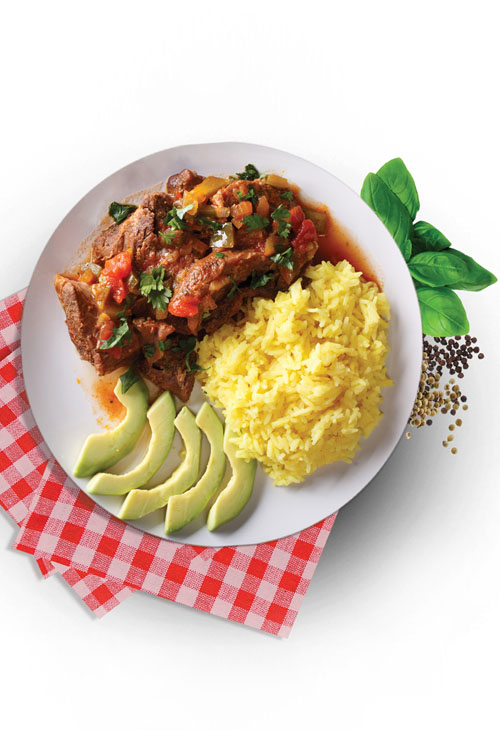 Stewed goat
Constanza Recipes
4 people
10 min
Ingredients
2 lemons or 1 sour orange
4 lbs. bone-in goat meat (or 2 lbs boneless), cut into small pieces 1 red onion, diced
1½ teaspoon Constanza oregano 2 tablespoons Constanza garlic
1½ teaspoon of salt 3 tablespoons of oil
2 minced cubanela peppers
4 diced tomatoes 1 cup tomato sauce
1 cup red wine or ¼ cup rum (optional)
½ hot pepper (or 2 habaneros), cut in half
Preparation
Add the juice of the lemons (or sour oranges) to the meat. Stir to coat all the meat. Let it sit for 15 minutes.
Pour a liter of water over the meat, rinse and remove all the liquid.
Add the onion, Constanza oregano, Constanza garlic and a teaspoon of salt. Stir to combine.
Leave to marinate and keep covered in the fridge for an hour, better overnight. Heat the oil in a deep-bottomed pot over high heat. Add only the meat to the oil (reserve the onions and the juices that the meat has released in the marinade).
The meat will produce some liquid when heated, cook and stir until all the liquid has evaporated and the meat is browned.
Add 2 tablespoons of water, lower the heat to medium-low, stir, and cover.
Every 5 minutes add water and stir, cover again and repeat until the meat is very tender (30 to 60 minutes, depending on the quality of the meat).
Once the meat is soft, add the onions (and meat juices), the tomato and the cubanela.
Cover and cook over low heat until vegetables are cooked (5 minutes). Pour in the tomato sauce, stir to combine.
Add the wine and 11⁄2 cups of water. Cook over low heat and reduce until you get a thick sauce.
Season with salt to taste if you consider it necessary.