Traditional lasagna
Constanza Recipes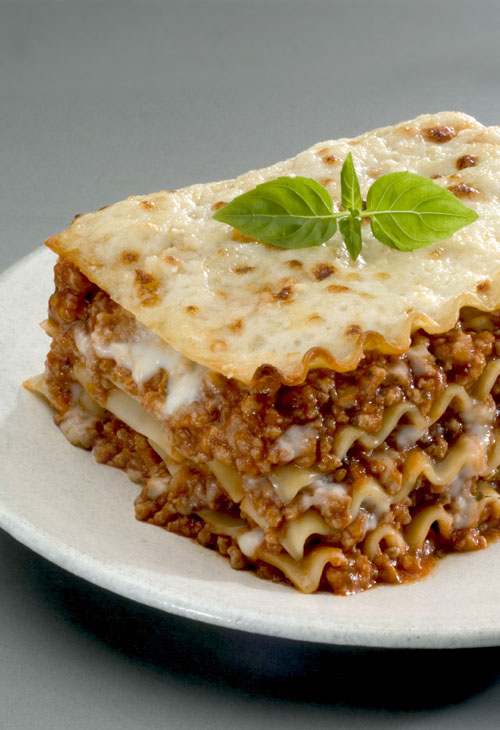 Traditional lasagna
Constanza Recipes
6 people
60 min
Ingredients
For beef filling:
1 lb. of meat (a mixture of pork and beef)
2 red bell peppers
2 carrots
½ tbsp. of Constanza Garlic Paste
½ lb. of bacon
2 large onions
1 ½ cup of tomato sauce
1 tbsp. of extra virgin olive oil
1 tsp. of Constanza Oregano
Salt and freshly ground black pepper to taste
12 sheets of lasagna or lasagna
To make the bechamel sauce: (yields for approximately one liter, enough for the lasagna)
1 cup of all-purpose wheat flour
1 cup of butter
1 liter of whole milk
A pinch of nutmeg
Salt and freshly ground black pepper to taste
To finish and gratin the lasagna: 100-120 g. grated Parmesan cheese (or mix with your favorite cheese for gratin)
Preparation
Previous preparation:
Heat a large pot of water. When it starts to boil, add 2 handfuls of salt.
Introduce the lasagna sheets one by one without touching (so that they do not stick together).
Stir with a wooden spoon and remove the slices in about 10 minutes. Stretch out on a few sheets of absorbent kitchen paper. Even if it looks like they are not fully cooked, they will finish cooking in the oven.

Meat lasagna filling:
Once washed, cut the vegetables into small pieces so that they blend well in the sauce. Reserve everything in a bowl.
In another saucepan, pour extra virgin olive oil. Introduce the onion and the Constanza garlic paste, when it is golden brown, add the rest of the ingredients.
Sauté everything at medium heat for about 15 minutes.
Season the meat to taste and mix it with the vegetables. Let cook for 5 minutes and when it changes color, introduce the bacon into very small pieces. Add the tomato sauce, pour in the teaspoon of Constanza oregano and add salt and pepper if necessary. Stir the meat with the vegetables and remove from the heat, let it cool slightly.
Preheat the oven at 200º C for 15 minutes.

Preparation of the bechamel sauce:

Sauté Constanza garlic paste in the butter, add milk, flour, salt, pepper and nutmeg, then stir until creamy.

Preparation in the baking dish:

Put a few tablespoons of the béchamel sauce at the bottom of the pan. Then place the sheets on top, add a layer of the mixture with the meat in each sheet, again the béchamel and so on until you have 3 floors.
Finally, finish with a generous layer of bechamel. Add cheese of your choice to gratin.
Bake on the middle tray for 15 minutes at 180º C and then for 3-5 minutes on top with the grill set to brown.
Let's eat!