Carrot cake
Constanza Recipes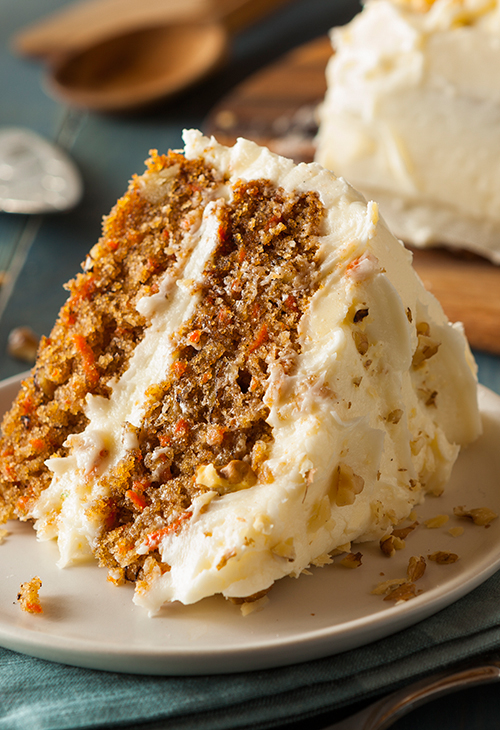 Carrot cake
Constanza Recipes
12 People
20 min
Ingredients
500 gr of flour
2 tablespoons cornmeal
2 teaspoons baking powder
2 level teaspoons ground cinnamon
250 gr of butter
350 gr of white sugar
5 tablespoons of Constanza Mayonnaise
3 medium eggs
1 1/2 teaspoons of natural vanilla extract
100 ml of orange juice
100 ml of semi skimmed milk
2 medium carrots, grated
75 gr raisins
60 gr of pecans
Cheese spread
Icing sugar
Preparation
Preheat the oven to 180ºC, 160ºC with fan. Grease a large mold (26 cm).
Sift the flour, cornmeal, yeast and cinnamon. In a large bowl, beat the butter and sugar until fluffy. Mix the Constanza Mayonnaise with the eggs, vanilla and orange juice before adding it to the butter.
Add the dry ingredients little by little, alternating with the milk, until the mixture is homogeneous. Add the carrot, raisins and walnuts. Pour the dough into the mold.
Bake for about 40-45 minutes, or until a toothpick inserted comes out clean. Let stand about 15 minutes before unmolding and let cool on a wire rack.
For the topping, mix the cheese spread, the butter, the juice and the grated orange and vanilla in a large bowl with a mixer until smooth integrated. Add the icing sugar at low speed at first and then at high speed for 1 minute until you get a velvety cream. Decorate the cake with the topping.